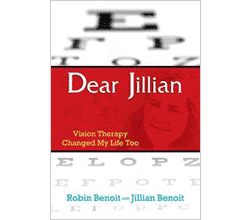 One of the most rewarding aspects of providing vision therapy is seeing how passionate that patients and parents becoming in advocating its benefits. Few have had as grand a vision and made such a difference as Robin Benoit and her daughter, Jillian.
So I was honored when they asked to interview me for their new book,  Dear Jillian: Vision Therapy Changed My Life Too. Robin and Jillian knew that I was passionate about vision therapy, in part because I myself had gone through it as an optometry school student . They are the author's of Jillian's Story, which has become famous in children's eye care circles for detailing life before, during, and after vision therapy. Since the book came out, I have had the pleasure of working with Robin and Jillian on several worthwhile projects, including this interview that I did with them in 2010.
I am joined by many, varied success stories in Dear Jillian. Adults and kids, from all over the country.  As Jillian writes:
"I am not a one-in-a-million case. Countless people of all ages have been through vision therapy and it has changed their lives for the better. I hope this book will open the eyes of those who have rejected vision therapy. Thank you to everyone who wrote to me and shared their vision therapy success. You are the reason our book is titled Dear Jillian."
You can read a lot more about Jillian's Story and Dear Jillian on their website http://www.jilliansstory.com. Also, like their Facebook Page.
Don't forget, Dear Jillian makes a great Christmas  gift to either a person struggling with vision problems or your local library! Take advantage of the holiday sale. :)
Happy Holidays!
PS: A great interview with Jillian was just published on VTWORKS.
By Nathan Bonilla-Warford, OD
Bright Eyes Family Vision Care
Love us? Tell the world with a review: